Top 20 Amazing Free Font Application for iPhone
This blog enhances the reader's ideas about font applications for the iPhone. These Font applications are free to download.
Fonts are an essential part of any document prepared. Viewers will get attracted to unique and stylish fonts. This can enhance the visual score of the content. A high visual score can increase viewers for documents. There are several types of downloadable free font apps available for iPhones.
How to get fonts for free?
Users can install and use Custom fonts by the following steps:
Locate the font manager in text supporting the application. Access the font manager by opening a mobile application. The font manager is enabled from the keyboard of the mobile.
Explore and locate custom font design applications from the App store.
Download and install the required font application.
View and enable installed fonts through compatible applications.
A brief of the steps for choosing the best font app for the iPhone is given below.
Font Maker
Fontli
Font Dresser Free
Font designer
Font and Color
Fonts
TypeFaces
Font Gallery Preview
Fontly
Helvetica Vs Arial
Fonts For You
Font Diner
Fonteer
WhatTheFont
iFont
FontDiner
Keyboard Fonts Cool Fonts
Fonts++
Adobe Creative Cloud
FontBot- Custom Fonts Keyboard
Free Font Apps for iPhone:
This is one of the familiar free font applications for the iPhone. Font Maker application is mainly used to create customized fonts. Customized fonts can be created as per the requirements of the users. The customized font can be used in any of the mobile applications. The font created can be directly used in the mobile app. The user can also type the required text in the Font Maker application. This text can be used in the mobile application by just copy and paste.

Fontli is a social media for Fonts designers. Fonts aspirants will post their ideas as pictures taken from the mobile device. This application is mainly focused on fonts design and all the posts and feeds in the media will be related to that. Users can discover new typography and explore people with fondness towards fonts.
Also Read: What is the Main Difference between JavaScript, Jquery and AJax?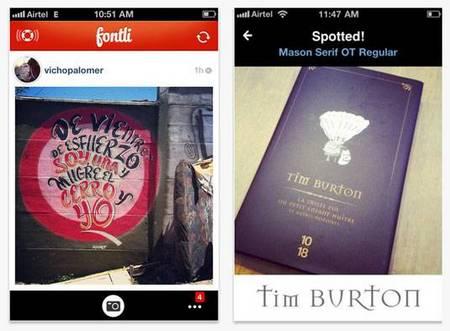 This unique mobile application is a font editor tool that can be used to edit texts. After editing the texts can be saved as an image file or can be mailed as an attachment. More than 120 font styles are available in this app. Apart from that, 150 crystal styles and 36 background styles are available in the software.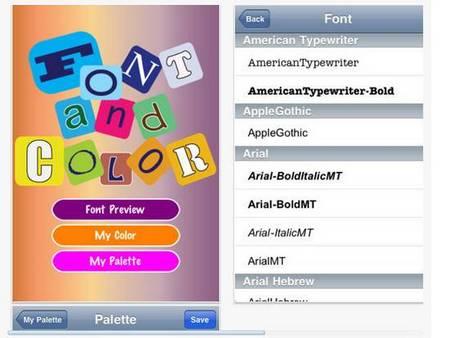 Different font styles can be used for free from this downloadable application. The font designer application will allow the user to explore the fonts available on the device. Also, the different fonts can be viewed, customized and selected by using this application. Fonts available in this software can be used in mobile applications like messaging, Facebook, etc.
5. Font and Color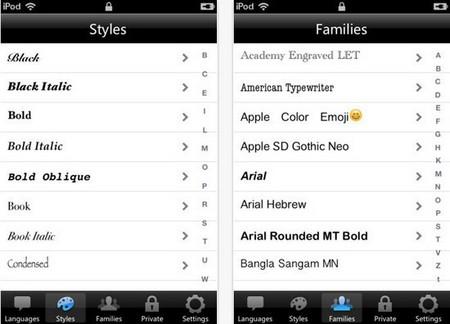 Font and color application is useful to change the properties of the fonts and to select the required font from a collection. Also, the user can visualize a sample text using different fonts with the help of this software. A variety of color features can be used for the fonts and users can create their customized color tone and color palette with this application.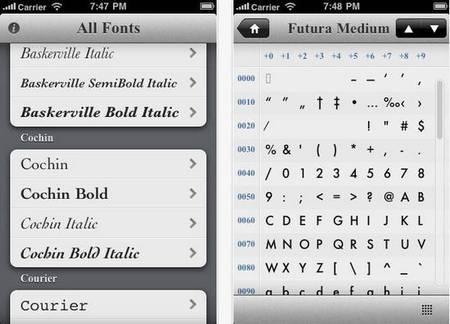 This mobile application will display all the fonts available on the mobile device. The prepared list of the fonts will have different font families available and also contains each font available within the family. Using this application the developers can visualize different fonts available in the device.
7. TypeFaces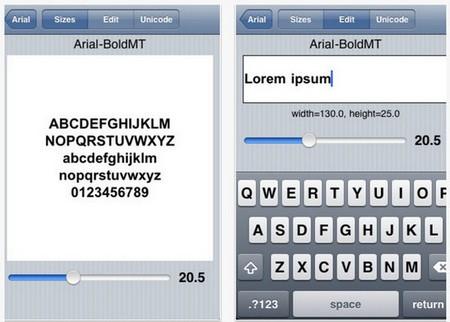 Typefaces application is used to manage different fonts available in the device. Also, it will assist the users to select a suitable font for their requirements. Users can explore all the existing and imported fonts by using this software. These applications also display the glyphs or symbols included with the fonts.
8. Font Gallery Preview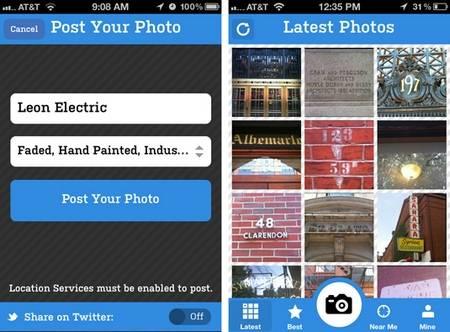 This mobile application will assist the user in listing all the fonts available on the mobile device. It also aids in visualizing and previewing each font with the help of a sample text.
9. Fontly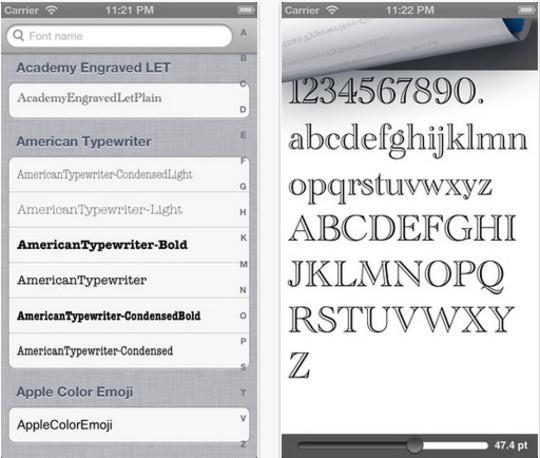 With the help of this application, the user can explore, locate and visualize vintage font designs all around the world. Different fonts styles are available and used all around the planet. These font styles are unique and rare. This catalog shares and posts the best font styles, neon board letters, architectural letterings, and hand-painted fonts.
10. Helvetica Vs Arial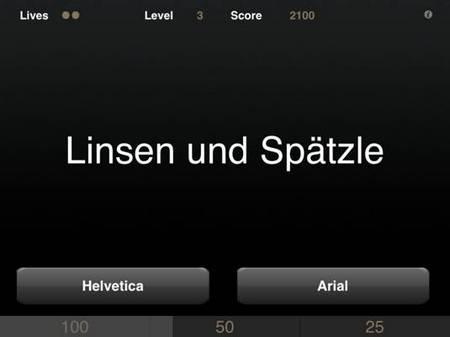 This application is specially designed and useful for font designers. It examines and visualizes the features of the most commonly used font style like Helvetica and Arial. This mobile software can be useful to visualize the type used in the text.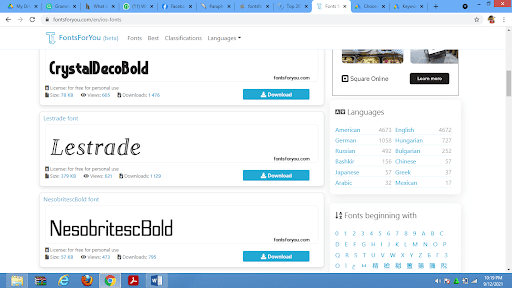 The Fonts for You application will attract a huge crowd of users with a wide variety of font styles. Moreover, if you want to have fonts for iPhone free, this app is for you. You can use more than 100 different font styles available in the software. The Fonts app is available with cursive, italic, and many other font styles for us.
Features
Ability to integrate with social media platforms

Customizable keyboard with vivid themes and styles

Free to use applications with fewer in-app advertisements. 

More number of free fonts for iPhone users.
Font diner app is suitable for graphic designers of expert levels. You can create content and designs of different sizes using this tool. The Font style app can provide attractive free fonts as well as outstanding paid font styles. 
Features
Multi-device compatibility (iPhone and iPad)

Compatible with designs of different sizes

Easy to install and use

Ability to integrate with an expert community of typographers. 
With a better user rating, this one is one of the best font app for iPhone. The Fonteer application is widely useful for a large crowd of people. This Fonts app will allow you to use the same font style for iPad and iPhone devices. You can use limitless font types by purchasing this application a single time. 
Features
Excellent potential to organize multiple font styles. 

Capability to access Google font with ease. 

Compatible with almost all types of applications

Ad-free usage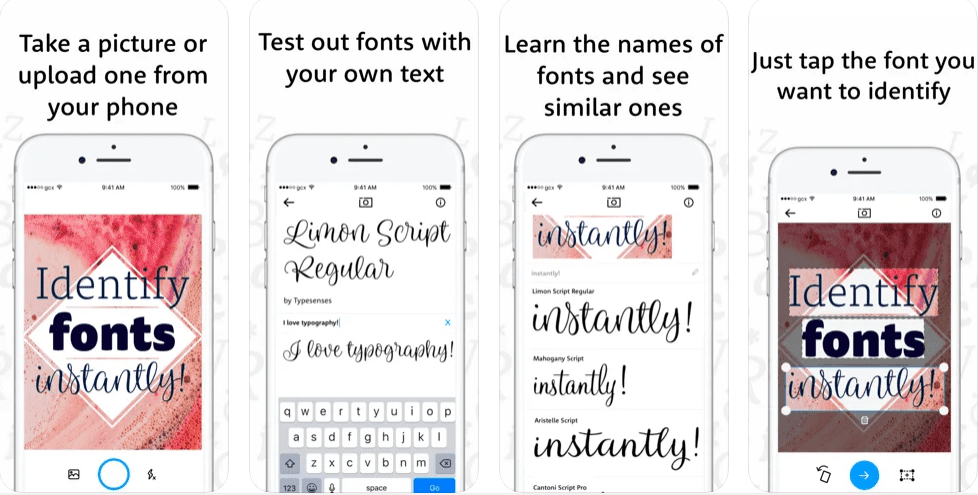 WhatTheFont is a famous font application because of its superior abilities. The unique feature of the tool will allow you to copy and use font styles from other applications. You can avail of assistance to use other font applications from this tool. You can explore, select, and use the fonts from different platforms using WhatTheFont software. 
Features
Can educate you on the names of a variety of fonts

Fast and easy to use

Superior AI interface

Capable of identifying fonts from images
You can set up brand-new fonts in TTF, TTC, and OTF formats using iFont. To use them with programs like Pages, Keynote, Microsoft Word, or any other compatible programs, you may also upload files that have been compressed into a ZIP file. Within iFont, users can download and set up fonts from Dafont, Google Fonts, and other bespoke sources. However, a configuration profile is necessary for this. Users can install, compare, and sample typefaces and examine individual glyphs and technical font characteristics using the many fascinating capabilities offered by iFont.
Selecting the notepad symbol next to the desired font allows you to test different typefaces. After being prompted to input a few phrases, you can then share this as an image to view on third-party services like WhatsApp or Messenger. Now that fonts can be parsed, iFont can save glyph appearances, search glyphs, and determine which characters glyphs are mapped to. A better zoom view is present in more recent versions. You can now specify a date or time after which a configuration profile created to be sent or used to install fonts will automatically expire.
The free Font Diner app is extremely popular and specializes in providing creative projects with high-quality typefaces with a retro aesthetic. It offers more than 400 unique typefaces that graphic designers of varying skill levels can use. It offers a free basic font set and numerous others that may be purchased for $5. Pages, Keynote, and Numbers are the only applications that are compatible with them.
The next app on this list of free font apps for iPhone considered as the finest for fonts on the iPhone is Keyboard Fonts Cool Fonts. The software may communicate with various messaging services, including Instagram, Twitter, Facebook, Snapchat, and Whatsapp. This program provides you with a variety of adorable typefaces that you can use to spice up the appearance of your social media profiles and posts.
Its Key Features include:
User-Interface that is straightforward and uncomplicated to utilize.
There are several different font styles available.
Simple copying and pasting of text
Fonts++, based on Unicode, provides designer fonts that can be viewed on all other iPhones. This is true even if the user with whom you are communicating does not have these fonts installed on their mobile device. In addition to its application in social media, Fonts++ may also be synchronized in the user's calendar, files, and task list, among other places, to provide a more individualized experience. This app also offers a free three-day trial before a monthly or annual subscription to give the user an opportunity to get a feel for the typefaces they are interested in finding in an app.
The widely used graphic design service now offers a free app for the iPhone that includes more than 1,300 different fonts. It is not necessary to already have a subscription to Creative Cloud to download the app; once a log-in has been established, fonts can be downloaded and installed on the mobile device to be used. The fonts are compatible with various other iPhone apps, particularly if the software on your device has been updated to the most recent version.
For usage on your iPhone, Fontbot offers various fonts, ranging from simple and elegant to complex or unusual. Along with fonts, the software also enhances the keyboard with GIFs, stickers, text emojis, symbols, and popular hashtags.
This font software is ideal for swiftly creating excellent posts or comments if you use social media frequently. Alternately, any of these characteristics can be used in chats on any platform. Try Fontbot if you're looking for a straightforward iPhone font app with some extra keyboard capabilities. Most functions are free, but you may upgrade and gain more by paying.
Frequently Asked Questions
How can I add fonts to my iPhone?
Fonts can be included in the iPhone mobile by simply importing the already available custom fonts. Also, the fonts can be downloaded and installed from the app store. This downloaded app can be accessed and enabled through the font manager.
How do you get fancy letters on the iPhone keyboard?
Access the settings of the keyboard tool. Enable and select a new keyboard. Select the name of the keyboard and provide full access. This will facilitate the keyboard to access emoji and GIFs.
What is the best keyboard font for Apple iPhone?
There are many free font applications available in the app store. These applications can be downloaded and used in any text supporting applications of the mobile. The best and most commonly used font application is Font Maker. By using the software the user can customize and use fonts as per their on different text supporting mobile applications.
How to get calligraphy font on iPhone?
Separate font application is available for opting and using calligraphy font style. User has to download and install the font mobile application from the app store.
Stay connected with Techidology to get information on all the technologies, mobile apps and digital marketing.
All the images are taken from bestfreewebresources.com