Logo vs. Brand Identity vs. Branding -The Difference You Need To Know
Today's world of digital marketing involves in sentiment analysis and customer data. There are various means available to spark the customer's emotions towards a product. Every business will always strive for excellence in its customer reach. Various methods and tools are available for increasing customer willingness towards a product.
Logo and brand (Logo vs. brand) are useful for increasing the success rate of your business. In general, both of these two tools seem to be similar. But in practice, it is not so. Logo and brands have their purpose and objective over any product they are used for.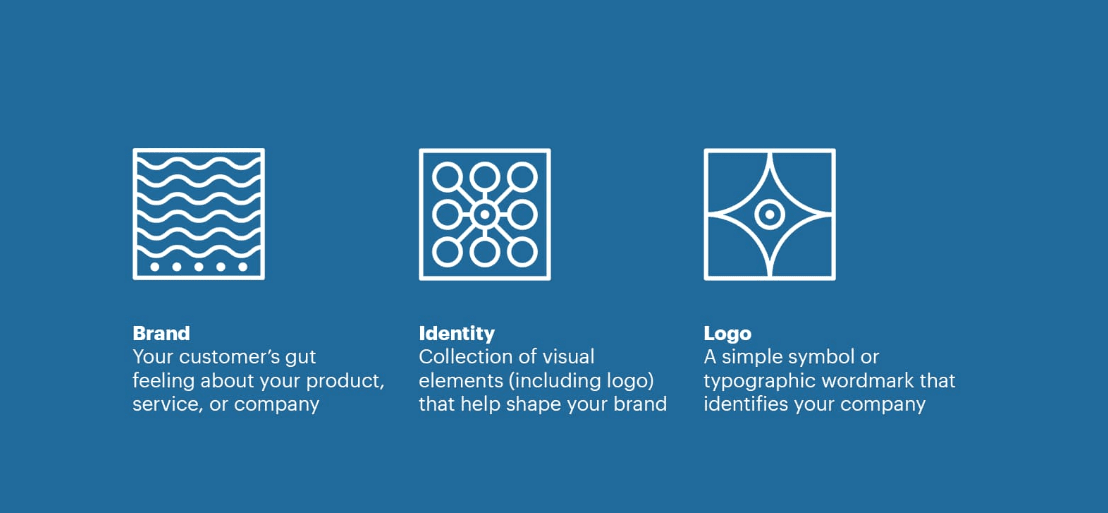 Image source: cultmethod.com
What does a Logo mean?
 "It's a habit of mine now, noticing labels, logos, and shoes." – Michael Jordan
A logo is a unique imprint that can be used to represent a business or a product. The logo makes it easier for the customer to identify the product. It may symbolize the nature of the business or the features of the product. The logo is used to differentiate your product from others and it should be attractive and meaningful.
How to generate a Logo?
Creating a logo for your business is more like physical work. But it needs a lot of research to decide the symbol to use as a logo. A logo should be simple, attractive, and must portrait the features of the products.
Elements of Logo
Being distinct, related to the service, attraction, ease to adopt changes are the important elements that are essential for designing a logo.
Also Read: How COVID19 (Coronavirus) Effect on Digital Marketing Industry
How do you define a Brand?
"A brand for a company is like a reputation for a person. You earn reputation by trying to do hard things well." – Amazon's founder Jeff Bezos
A brand is the customer's view about a product, business, or company based on the suitability and quality of the product. Branding of a product can be achieved by creating customer engagement with products by using logos, symbols, advertisement, and also by providing quality service.
How to Build a Brand?
Building a brand is working with the perception of the customers and increasing the willingness of the customer towards a product or service. With the quality service, appropriate advertisement, and strong logo we can create a positive attitude towards your product. Building a brand is all about building positive customers to your product.
Elements of Brand
Brands can be built with the aid of logo, visuals, feedback, marketing, social media activity, and user willingness towards the product. These elements can assist in creating brand identity, which may drive new clients towards your products and can keep your existing customer engaged with your service.
Logo vs Branding
Brand and logo are important for any product or business as both involve consumer engagement. The logo is a signature of your service which will be unique, understandable, and attractive. The logo will create a visual impact of the product on the customer. Also, an exclusive logo will enable you to individualize your company from others. The brand is more than a physical image of a product. It involves creating an affinity towards your product among a potential group of customers.
Cost
• Logo can be created easily with less money. Whereas building a brand takes requires a lot of work and expense.
Time
• We can create a logo fastly since it is a physical representation of your service. Branding involves customer engagement. So, creating a brand is a time-consuming process.
Logo Designing Vs Brand
• Designing a logo is automatic nowadays, but building a brand needs more human involvement.
Accomplishment
• The logo is a symbol that can create a visual impression about your product whereas the brand can create emotional involvement of your product with your client.
• The strongest logo is the simplest one. It will be useful for recognizing your company. The brand describes your service and the quality of your product.
Which is important? Logo or Brand
Logo creates an identity for your company and it helps users to locate your service in this competitive market. The brand will create impressions on the people about your product and it will drive active customers to your product. Both the logo design Vs brand are equally important for a successful company as both drive efficient clients to your service. Brands can be built with the logo of the product and the brand can increase the value of the logo. A product with good branding and a simple, attractive logo can drive more customers to the business.
Conclusion:
As we are in a competitive market of more opponents, any business must concentrate on the methods to create a positive impression about their products. Using the logo and by creating a brand for your service, you can successfully attract more traffic to your business. On this page, we compare the Logo Vs branding concepts. You can enrich your thoughts with facts about logos and brands that can be useful for a successful business.
Faqs
1. What are the key features of a brand?
Projecting the purpose of the product, advertising at the right place and time, maintaining the commitments given to the customers, and creating a unique identity for your product are the key features of a brand.
2. What makes up a brand identity?
Brand identity is the index of a brand. It involves building the reputation of the company with symbols, advertisement content, logos, packaging, and other visual aspects. Brand identity can increase customer traffic and can attract new clients to your service.
3. What is a good logo?
A good logo should be unique, descriptive, simple, and attractive. It should be easily recognized by the clients and should give some information about the product. Loco can create a positive impact on the customers about your service.
4. How important logo is?
A visual portrait of a product can influence more people than verbal representation. Logo, with its simple and attractive visual features, can impress more potential customers to a business. Also, a unique logo can assist in creating a brand for your product.