7 Reasons Why WooCommerce is the Best eCommerce Platform
The number of people who buy online is increasing every year and the COVID-19 pandemic has simply exploded the growth of this industry.
If you ever wanted to start an e-commerce business and set up an online store, now is the high time.
With the help of the most reliable and affordable CMS platform WordPress and the best e-commerce platform WooCommerce, you can easily save a lot of time and money on your website development.
Reasons to create an online store
Creating an online store allows you to sell your products to anybody, anywhere, and at any time. When you run a retail business, with the help of an e-commerce website you can easily minimize the operational cost by more than 30%.
In a business with a physical presence, there are monthly recurring expenses like electricity, rental, etc. When you run an e-commerce business there will be no more recurring expenses. All you need to invest is in the development cost of an e-commerce website and yearly web hosting & domain name.
When you sell your products through a website, you can grow your business globally as you will be able to reach a customer anywhere in the world.
Now we know the benefits of running an e-commerce business, let's see how you can set up an e-commerce website at an affordable price.
Today I will share 7 major benefits of choosing WooCommerce for your e-commerce website development.
Why WooCommerce?
There are many e-commerce platforms like Shopify, Bigcommerce, Square Ecommerce, Webflow and Wix to create an online store but among them, WooCommerce is the most popular and user-friendly for developing an e-commerce website.
Some interesting facts:
Over 4.4 million websites use WooCommerce.

It has 29% of the e-commerce market as of January 2021.

It has over 120 million all-time downloads.

There are more than 1200 themes for WooCommerce on ThemeForest.

Over 980 WooCommerce plugins are available on worpdpress.org.

93.7% of all WordPress based eCommerce sites use WooCommerce.

WooCommerce is used on 22% of the top 1 million e-commerce sites.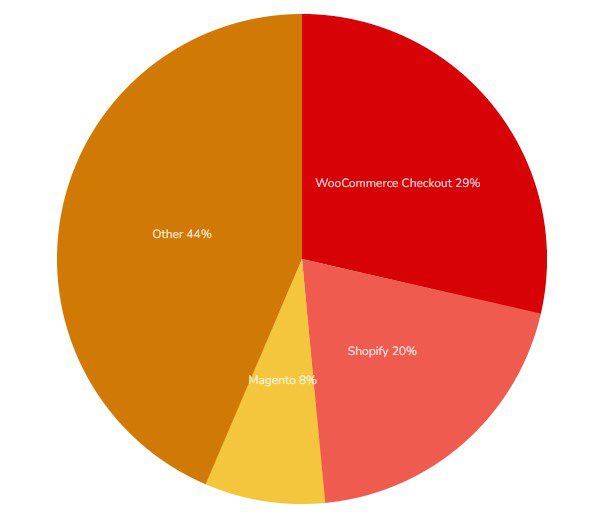 Distribution of eCommerce websites using WooCommerce. Source:
BuiltWith
When you use WordPress and WooCommerce for your online store creation, you get several benefits. Today I will share 7 major benefits of choosing WooCommerce for your e-commerce website development. 
7 reasons for choosing WooCommerce:
1. It's free to use
You will have all the necessary features to run an online business on WooCommerce for free. You can simply download and install it on your WordPress site and start developing your e-commerce website.
You can set up the online store by yourself or get the help of a WordPress developer to make changes or customizations on your website according to your requirements.
The maintenance cost is almost zero as every time new updates are available for WooCommerce, you can update your website yourself. It only takes few seconds to update it. It releases update frequently so you don't have to worry about the performance and security of your website.
2. Unlimited number of plugins available
If you want to extend the functionalities of your WooCommerce website, you can use plugins to do so. It's easy to find a plugin for WooCommerce and can add more features to your online store in just a few clicks.
If you want to optimize the checkout flow and customize your WooCommerce pages CoDesigner plugin can be a good option. It is one of the most efficient and popular plugins that can be used to create and enhance your WooCommerce store. It connects the most popular website builder Elementor with WooCommerce.  You will get dozens of useful widgets with this plugin that requires zero coding knowledge to enhance your e-commerce website.
Product Review plugins like Wiremo also offer an easy and efficient way to collect notes and reviews on your website. The plugin has multiple options to display your comments, including shortcuts, widgets, and blocks. This plugin fits perfectly into WooCommerce and is designed to give you more sales and social feedback. In addition, you can easily import your old notifications in less than 1 minute.
Below are some of the great plugins to create a store and grow your sales on your WooCommerce website:
Elementor

CoDesigner

YITH plugins

OptinMonster

Booster for WooCommerce

Mailchimp for WooCommerce

Yoast SEO

WooCommerce PDF Invoices & Packing Slips

WooCommerce Customizer

WooCommerce Multilingual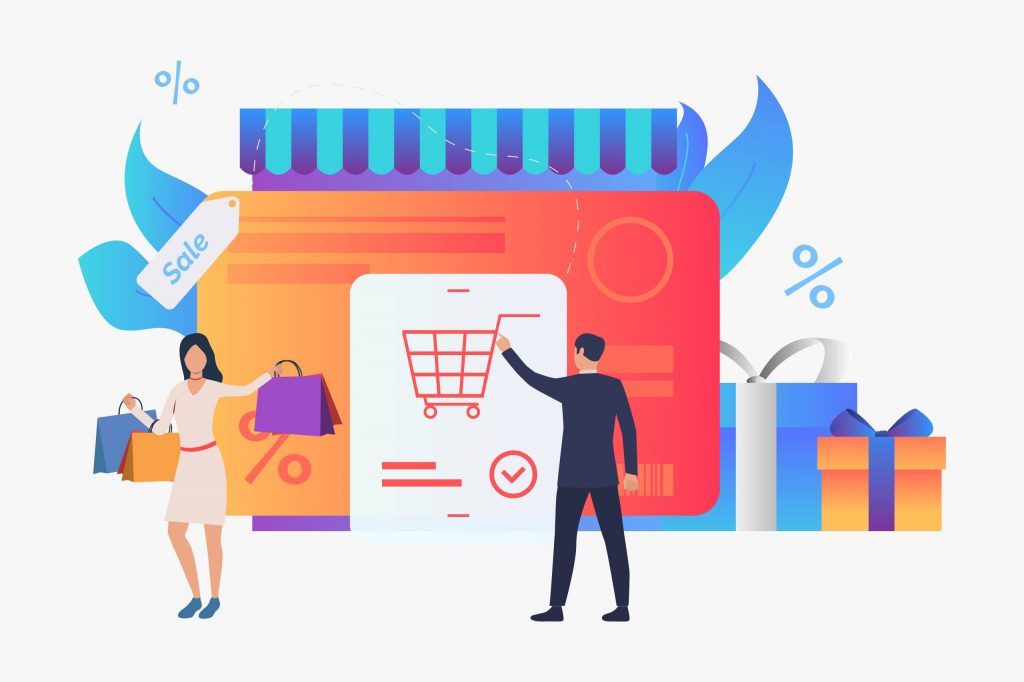 3. Ease of use
One of the major reasons for the popularity of WooCommerce is its user-friendly interface and advanced features. Even if you are new to WordPress and WooCommerce, you can learn website management in just a few days. You can easily manage these activities below:
Adding or editing the website pages

Adding or editing the products

Manage product categories

Discount codes management

Managing important sales reports, customer reports, orders reports, etc.
You will have full control over your online store management with WooCommerce. Thus, you won't need to hire a developer to make small changes and do it yourself. You can save on your time and money this way.
4. Powerful analytics tool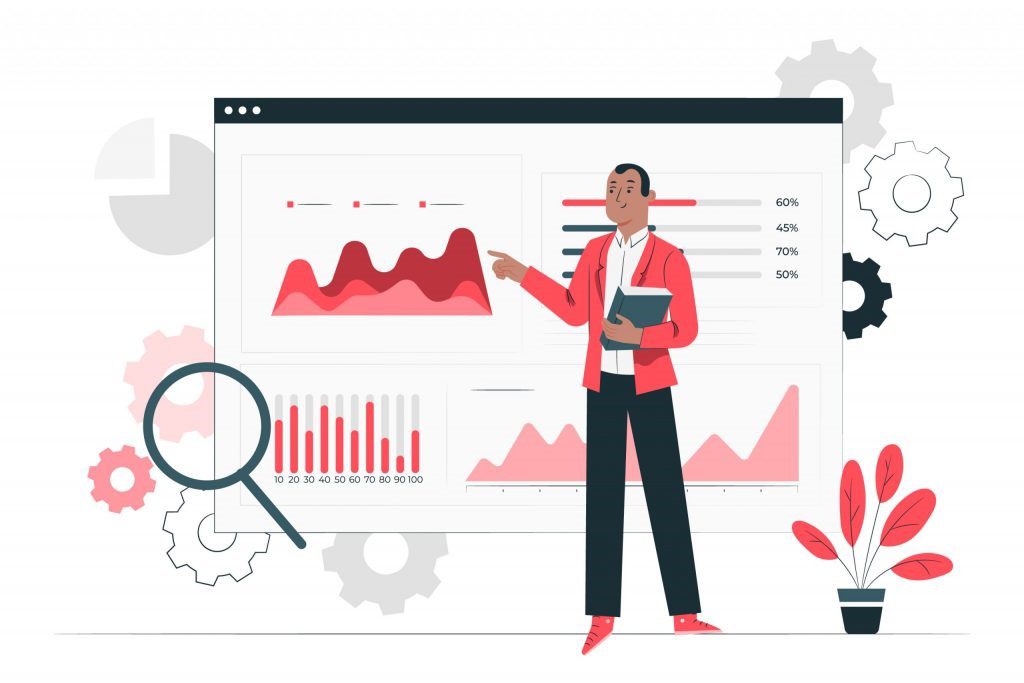 Knowing about your customers and the way they interact with your store and its products is a good practice to expand your business. Analytics lets you know the insights of a business and it's an inseparable part of a business. The more you know about your business insights, the better you will be able to improve your products, strategies, and marketing policy.
WooCommerce has a powerful analytics tool to give a better glance at your business with a clear and intuitive interface. The analytic reports include sales reports, top products, top categories, stock reports, active coupons, and many more. You can also integrate it with external analytics services like Google Analytics to get more analysis.
5. 3rd party tools are easily integrable
Many 3rd party tools are used by e-commerce entrepreneurs which makes their lives easier. These tools include accounting systems, inventory management systems, shipping systems, etc. Zapier, Zendesk, QuickBooks are some of the most popular 3rd party tools that support easy integration with WooCommerce.
Because of the worldwide popularity of WooCommerce most CRM, POS, and accounting software vendors ensure that their tools are compatible. Thus, you won't need to worry if the 3rd party tool you are using is compatible or not.
6. Developers are easily available
You won't face any challenges in finding & hiring a developer when you choose WooCommerce for your e-commerce web design. You can easily find good developers in marketplaces and in website development agencies at an affordable cost. You can hire a developer if you face errors & bugs on your site, create a new online store, redesign your existing store, for creating custom plugins, and more.
7. Cost-Effective
WooCommerce is cost-effective in many ways. You will be able to cut down costs a lot as it's an open-source solution and free to use. There's a lot of free plugins available for it. Many free themes are also available along with the premium ones. These premium themes are affordable for any new business.
You can easily find WooCommerce developers at an affordable price. They will be able to help you out with any type of issues, customization, theme, and plugin creation, etc. It also has less maintenance cost. As I mentioned earlier you will be able to do most of the basic things by yourself. The best part is, a standard WooCommerce website doesn't need a high-configuration server. You can easily start with hosting for as low as $10 per month and then upgrade as your business expands.
Conclusion
Whether you are a start-up or a large company it's necessary to have an online presence in this digital age. An online store can make your business more recognized to the people on a broad spectrum. It can make your business accessible from any country of the world.
WooCommerce can help you do this by creating a professional online store with its resources. It is the perfect choice for your eCommerce store for its fast, easy to use, and customization features. It can adapt to the needs of any type of e-commerce business.
So, why waste time thinking so much? Start your online business today with the help WooCommerce for free!