Power BI Vs Tableau: Difference Between Two BI Tools
In the digital world, everything is available online for us. Ecommerce is developing with influence among the large mass of people. The evolving digital marketing strategy requires more user data. This user data collected from user activities will be store as Big Data. The influence of Big Data in the smart technology technique is overwhelming and enormous. It is necessary to maintain and manage these user data.  Data visualization tools are an essential tool that can be useful in managing Big Data.
Power bi and Tableau are two smart tools with which you can optimize and categorize your data. This page will supplement the Power bi vs tableau comparison matrix to enhance your knowledge on data visualization.
What Is Data Visualization?
Data visualization is the art of representing the information and data collected from the online activities of the users.  Using this tool, you may understand the aspects of the data. Also, you can use the data more effectively with the data visualization tool. You can create useful data insights in the form of charts, graphs, and maps using this gadget.  
Difference Between Microsoft Power Bi Vs Tableau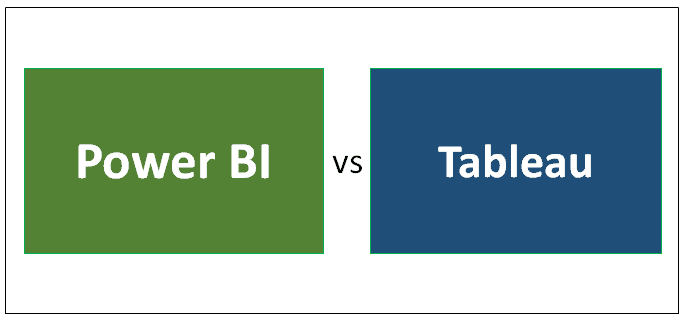 Image source: educba.com
When it comes to data visualization, we have plenty of tools available to create a smart representation of the data. This insight can impart more value to your business with a successful marketing strategy. With tools used for data visualization, a Power bi Vs Tableau comparison can be more informative to attain substantial knowledge about the gadget.
Even though Power bi and Tableau are useful in data visualization, they have specific differences. Given below are the differences between these two unique tools.
Suitability
Power bi is a tool useful for improving business analytics. It is suitable for a general audience. Tableau is a business and data analytics tool that can generate reports based on the data. It is best useful for data analysts.
Database
Power bi has limited access to databases. Tableau can access more number of databases and servers.
Price
Power bi is low priced when compared with the Tableau tool. The former tool has more options for SMBs and startups at a low cost.  Tableau has a free version with limited options. You can access more options by buying additional packages. It has separate versions for academic and non-profit organizations.
Data Storage
Power Bi has an extensive data storage capacity of 10GB. Data beyond the limit can be stored in cloud storage. As Tableau uses a columnar based structure, you can use millions of rows of data.
Data Access
In Power Bi,  you can extract data by using Azure. Hadoop database cannot be used in Power Bi. Tableau uses the Hadoop database to handle data.
Machine Learning
Power bi uses Microsoft Azure for machine learning. Tableau is having Python machine learning capabilities.
Data Handling
When considering data handling, Power bi's capacity is restricted to a certain limit whereas you can handle a huge volume of data using Tableau.
Visualization
Power bi has an amazing visualization technique with data points. It has more than 3500 data points to perform data analysis. Tableau can create charts and tables to represent data visually. It has unlimited data points.
Settings
You can use Power bi for Desktop, mobile, and service requirements. Tableau is capable of sharing data from the desktop through Tableau online or Tableau server.
Interface
Power bi has an easy user-interface. But, Tableau is a little difficult to use.
Software Type
Power bi is available as Software as a Service tool whereas Tableau is present in both on-premises and cloud.
Customer Support
The customer support of Power bi is limited and cannot answer all your queries. Tableau can provide good client support with good technical assistance.
Pros and Cons of Power Bi
Pros
Less expensive

Personalized visualization

Can integrate with Excel sheets

Excellent data connectivity

Contemporary update notifications

Can include Power Bi reports in web base and other portals

Capability validate data sources

Extraordinary convenience to the data source
Cons
Cannot handle complex connections between tables

Poor ability to customize visual

Congested user interface

Cannot handle large data
Pros and Cons of Tableau
Pros
Good visualization ability

Easy to use

Excellent reliance performance

Can connect with many data source

Useful community support

Compatible with a mobile platform
Cons
More expensive

Lack of customer support

Have some security issues

No futuristic version variety available
Conclusion
Data analytics plays a key role in e-commerce trends and digital marketing. We can analyze the user activities and can create a pattern for the client's product preference using different tools. Using a data visualization tool, you can obtain the pattern as readable output. These data insights can enrich user engagement of potential clients with your business platform. We hope this page has high-rise your intelligence on the most famous data visualization tools Power bi Vs Tableau. Enjoy the power of data and enrich your business success.
FAQs
How do you visualize data?
You can visualize the user data in an understandable format using data visualization tools. Data can be presented as indicators, Line charts, Bar charts, Pie charts, Pivot tables, and Scatter maps using a variety of visualizations tools available.
Does Tableau require coding?
For using Tableau, you don't need any technical or programming knowledge. Typically even persons with no software knowledge can use these tools without any hindrance. Also, it is not necessary to learn any coding language for using Tableau.
Is Power Bi better than Excel?
Power Bi is useful in the creation of data visualization and dashboard. Excel is handy in supreme driver analysis. Power Bi is quicker in data processing than Microsoft Excel. This tool is more powerful and strong in dealing with data.
What can Tableau do that power bi cannot?
Tableau can work with more data sets. But, the Power bi can use only 3500 data sets to visualize data. Tableau can integrate a large number of data sets, whereas power bi cannot.
Does Tableau use SQL?
Tableau has excellent data visualization ability. It can work with data available in database tools like SQL, Mongo, IBM DB2, Hadoop, and Oracle.